---
---

YOUR SHOPPING CART
Items in Cart:
Value inc carriage (exc tax):
---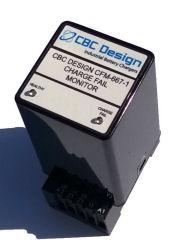 667 Charge Fail Monitor. Click image to download a datasheet.
---
if you have a friend or colleague who would find this page interesting!
---
Call Us Mon-Fri (11.30AM - 8.30PM Excluding public bank holidays)

UK-07768 206649
---

Send us an Email!
---
Charge Failure Relay.
The Charge Failure Relay monitors charging current flowing into the battery and trips a relay (used to switch your warning leds or buzzers) if the current falls below a specified (adjustable) minimum. Primarily designed for monitoring the output from charging equipment, the charge failure monitor has been enhanced so it can measure current in a wide range of applications.
The unit is fitted with on-board through label healthy & failure leds and includes a double pole volt free relay rated at 3A @ 230VAC or 30VDC. Connections and installation requires an 11 pin octal base (Included!).
Typical applications include charger/alternator failure, open circuit protection to critical equipment such as satellite navigation, depth gauges etc any many other roles where the ability to sense DC current is a must!.
The Charge Fail Relay senses current from the charger transformer using a current transformer and is idealy suited for use on thyristor charging systems. The relay can also be configured for use on switch mode or linear charging systems which include an isolating output diode. The charge fail relays sense input is connected to the diode anode and detects the presence or absence of charging voltage. The CFM can also be configured to sense the secondary output from the charger transformer on systems where using the other input configurations are not practical.
Like our high voltage alarm relay and low voltage alarm relay, the charge failure relay is available in 6, 12, 24, 30, 48, 60 and 110VDC systems. Special high voltage models can be manufactured if required. If you want to know your installation is working reliably, a CFM may suit your requirements.
BACKWARDS COMPATABILITY: Please note that the models shown on this page directly replace previous versions.
The following are suitable for unsmoothed 100Hz Thyristor type charging systems. Please select from the following available voltage models:-
CBCCFM-667-2/6 12V Charge Failure Monitor.T1.£65.80 +VAT.... Add to Basket

CBCCFM-667-2/12 24V Charge Failure Monitor.T1.£65.80 +VAT.... Add to Basket

CBCCFM-667-2/15 30V Charge Failure Monitor.T1.£65.80 +VAT.... Add to Basket

CBCCFM-667-2/24 48V Charge Failure Monitor.T1.£65.80 +VAT.... Add to Basket

CBCCFM-667-2/54 110V Charge Failure Monitor.T1.£65.80 +VAT.... Add to Basket

The following are suitable for smoothed 100Hz Thyristor type charging systems with positive output diode. Please select from the following available voltage models:-
CBCCFM-667-2/6 12V Charge Failure Monitor.T2.£65.80 +VAT.... Add to Basket

CBCCFM-667-2/12 24V Charge Failure Monitor.T2.£65.80 +VAT.... Add to Basket

CBCCFM-667-2/15 30V Charge Failure Monitor.T2.£65.80 +VAT.... Add to Basket

CBCCFM-667-2/24 48V Charge Failure Monitor.T2.£65.80 +VAT.... Add to Basket

CBCCFM-667-2/54 110V Charge Failure Monitor.T2.£65.80 +VAT.... Add to Basket