---
---

YOUR SHOPPING CART
Items in Cart:
Value inc carriage (exc tax):
---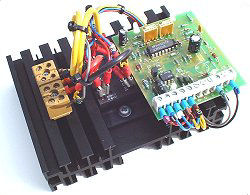 CRD Controlled Rectifier. Click image to download a datasheet.
---
if you have a friend or colleague who would find this page interesting!
---
Call Us Mon-Fri (11.30AM - 8.30PM Excluding public bank holidays)

UK-07768 206649
---

Send us an Email!
---
Charge Controlled Rectifiers.
Our DC Charge Controlled Rectifiers offers OEM manufacturers and individuals a cost effective way of building their own fully automatic industrial quality Battery Management charging system.
Manufactured in an open format, each Charge Controlled Rectifier consists of a control circuit and Thyristor/diode bridge rectifier enabling the unit to be connected directly to a suitably rated main transformer assembly and battery using just four connections.
The Charge Controlled Rectifier come in a variety of shapes, sizes and ratings according to the application but all include an electronic current limit and voltage control facility to maintain your battery in Tip-Top condition at all times.
Supplied in component form as shown, controllers are available from 6-220VDC at current levels of a few milliamps to several hundred amps (subject to 6.5K watts total).
If you need an automatic charging system for a fraction of the price of a fully configured charger, the Charge Controlled Rectifier is perfect. At the heart of every system is a simple but highly reliable control circuit which delivers current at maximum, gradually reducing it as the battery reaches the battery manufacturers SET POINT. (Fully Charged Voltage of Battery)
From companies seeking a solution to individuals with their own special requirements, we can help you meet your charging requirements.