---
---

YOUR SHOPPING CART
Items in Cart:
Value inc carriage (exc tax):
---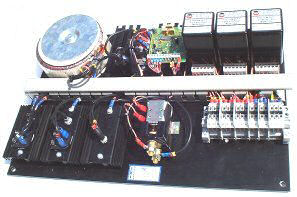 Bespoke MDT Modular Charger. Click image to download a datasheet.
---
if you have a friend or colleague who would find this page interesting!
---
Call Us Mon-Fri (11.30AM - 8.30PM Excluding public bank holidays)

UK-07768 206649
---

Send us an Email!
---
Open chassis Battery Chargers.
The Open Chassis Chargers we produce are manufactured using the same basic components we fit in our enclosed systems but are mounted on a flat mild steel plate for original equipment manufacturers to use in their own enclosures.
Like enclosed chargers, we produce a bespoke system to meet your requirement in full. We base the plate dimensions on the space you have in your enclosure and design the system around it, either on a single tier or using a number of inter-connected tiers depending upon the complexity of the system.
The charger shown on the right was a bespoke system designed for a customer and included dropping diodes to control the voltage supplied to a load as well as several alarms. The alarm volt free contacts were hard wired to the terminal array on this particular version.
Utilising proven control circuits, you can depend upon our open chassis chargers to maintain your battery at all times regardless of temperature fluctuations around the unit. Severe temperature changes can be measured using an optional probe which inputs a signal onto the control board to adjust the charging voltage as required to get optimal performance from the battery.
Whatever Height, Width & Depth you have, within reason, we can find a solution to your problem and offer a quality system which will give many years of service. Systems are available in 6, 12, 24, 30, 48, 96, 110 & 220VDC with single, two or three phase inputs.
Get in touch with us today and we can discuss your project and give you a quote along with a product specification for your inspection.
Click the image to download a general data sheet on some of our more popular modular chargers.