---
---

YOUR SHOPPING CART
Items in Cart:
Value inc carriage (exc tax):
---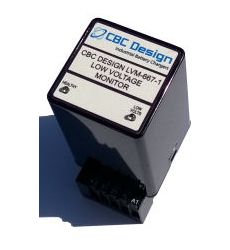 667 Series Voltage Alarm Relay. Click image to download a datasheet.
---
if you have a friend or colleague who would find this page interesting!
---
Call Us Mon-Fri (11.30AM - 8.30PM Excluding public bank holidays)

UK-07768 206649
---

Send us an Email!
---
High Voltage Alarm Relay.
The High Voltage Alarm Relay measures your battery or power supply output voltage and de-energises an internal relay (used to switch your warning leds or buzzers and provide remote signalling) if the battery voltage rises above a safe (adjustable) level.
Two different setting levels can be used on the device, both of which are individually set. This is useful on systems where the output voltage can vary between two states such as charging systems which include a boost function. The secondary setting is activated by switching a termination to supply negative on the relay socket via an external switch or relay contact.
Drawing less than 2 Watts, the unit is ideally suited to protecting your batteries from being overcharged which damages the cells, in many cases permanently.
If your battery is crucial to the reliability of your boat, golf cart, car, mobile home or industrial installation, the High Voltage Alarm Relay makes sure your batteries are never overcharged. Used to monitor a power supply output it makes sure the voltage stays below a safe maximum.
The High Voltage Alarm Relay is fitted with on-board healthy & failure leds and includes a double pole double throw volt free relay rated at 3A @ 230VAC or 30VDC. Connections and installation requires an 11 pin octal base which is supplied with the realy and can be panel or din rail mounted.
A small removable plug in the side of the enclosure (not shown in picture) provides easy access for adjustment of the primary high voltage alarm setting using a small flat bladed screwdriver.
The High Voltage Alarm Relay is available in 6, 12, 24, 30, 48, 60 or 110VDC versions and higher voltage models can be manufactured to order.
Backed up by a two year guarantee against any defect in materials or workmanship and designed for a twenty year life, the High Voltage Alarm Relay will monitor your system and tell you if something goes wrong, preventing damage that long term over charging or high output voltage will produce.
BACKWARDS COMPATABILITY: Please note that the models shown on this page directly replace previous versions.
For a combined High Low Voltage Alarm Relay Click Here!
For a 713-1 high or low voltage battery alarm click here!

Looking for something simpler, to light up an led perhaps? Click here!

Please select from the following available voltage models:-
CBCLVM-667-2/6 12V High Voltage Alarm ....£48.95 +VAT.... Add to Basket

CBCLVM-667-2/12 24V High Voltage Alarm ....£48.95 +VAT.... Add to Basket

CBCLVM-667-2/15 30V High Voltage Alarm ....£48.95 +VAT.... Add to Basket

CBCLVM-667-2/24 48V High Voltage Alarm ....£48.95 +VAT.... Add to Basket

CBCLVM-667-2/54 110V High Voltage Alarm .£48.95 +VAT.... Add to Basket