---
---

YOUR SHOPPING CART
Items in Cart:
Value inc carriage (exc tax):
---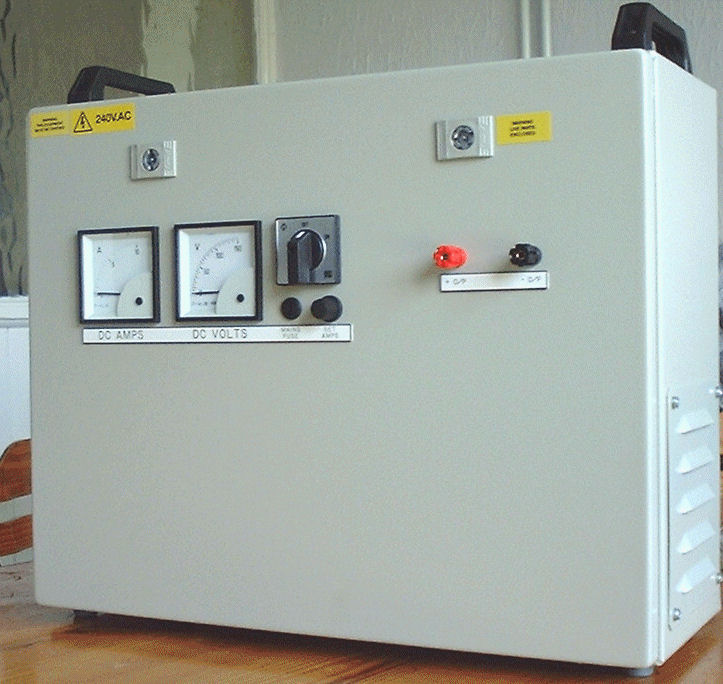 CDT Enclosed Industrial Battery Charger. Click image to download a datasheet.
---
if you have a friend or colleague who would find this page interesting!
---
Call Us Mon-Fri (11.30AM - 8.30PM Excluding public bank holidays)

UK-07768 206649
---

Send us an Email!
---
Enclosed Battery Chargers.
Our fully enclosed chargers are available in any configuration that suits your requirements. No standard of the shelf product can ever meet the myriad of specifications required in our industry. With that firmly in mind, we set out to produce a unique system for every customer.
We look at your specification or project outline then design a system from the drawing board upwards. Using standard proven control assemblies and if necessary alarm monitors, we vary the size, shape and appearance to meet your specification. We help you decide what you want and then we do our best to accomplish your goals in full.
Although many of our systems are bespoke, an example of which is shown on the right, we base all our initial prices on systems which include the following features:-
Mild Steel Enclosure: Industrial Grade Mains Cam Switch, Mains on led, Mains Fusing, Top Entry Gland Plates, Quality Moving Coil Ammeter and optional Voltmeter. Systems are available in 6, 12, 24, 30, 48, 96, 110 & 220VDC with single, two or three phase inputs.
With a design life in excess of twenty years, our systems are reliable and incorporate in-house designed controllers and monitors with a proven track record in most industries.
If you have a requirement for a high quality industrial grade charging system, contact us today by fax, phone or email.
Click the image to download a general data sheet on some of our more popular enclosed chargers.
We also design and manufacture 19" rack tray mounted charging systems. For details click Here!