---
---

YOUR SHOPPING CART
Items in Cart:
Value inc carriage (exc tax):
---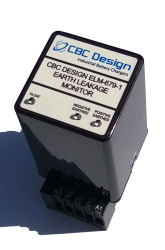 679 Earth Leakage Monitor. Click image to download a datasheet.
---
if you have a friend or colleague who would find this page interesting!
---
Call Us Mon-Fri (11.30AM - 8.30PM Excluding public bank holidays)

UK-07768 206649
---

Send us an Email!
---
DC Earth Leakage Relay.
Our standard DC Earth leakage Relay is a self powered device, measures each pole from the connected dc supply and provides a local led alarm and remote indication via volt free relay contacts if either one is partially or totally shorted to earth.
The DC Earth leakage Relay is covered by a 2 year warranty against defects in workmanship or component failure. Please see our guarantee page for more details
DC Earth leakage Relay responding to a negative or positive earth fault will illuminate the appropriate led on the unit facia indicating precisely which pole is earthed. The internal relay trips to provide a warning signal. The DC Earth leakage Relay is capable of detecting earth faults on charger rectifiers and transformer secondary as well as standard dc supplies from batteries or power supplies.
The DC Earth leakage Relay includes on-board through label healthy and failure leds, one per pole and includes a double pole volt free relay rated at 3A @ 230VAC or 30VDC. Connections and installation requires an 11 pin octal base which is supplied with the relay.
The DC Earth leakage Relay is not suitable for use in vehicles using a positive or negative earthed chassis for obvious reasons (special automotive versions are available for vehicle applications including electric vehicles) but if you use batteries in marine applications, using the steelwork as a conductor is not desirable and this unit then comes into its own. It makes sure your installation floats with respect to earth.
Available in the same voltage range as our other monitors, the Earth Leakage Alarm Relay is suitable for use on 6, 12, 24, 30, 48, 110 and 240VDC systems. Download a data sheet or order your Earth Leakage Alarm Relay today!
Normal lead-time on all models 4-5 working days. The relay contacts on the 240V version are rated at 30VDC 1A, 125VAC 0.5A, 240VAC 0.25A
BACKWARDS COMPATABILITY: Please note that the models (-2) shown below on this page directly replace previous -1 (see image) versions. The size, format and wiring is identical across both versions.
Please record the operating voltage you require in the additional information section provided on the checkout page when ordering this product.
CBCELM-679-2 12V Earth Leakage Monitor....£49.95 +VAT.... Add to Basket

CBCELM-679-2 24V Earth Leakage Monitor....£49.95 +VAT.... Add to Basket

CBCELM-679-2 30V Earth Leakage Monitor....£49.95 +VAT.... Add to Basket

CBCELM-679-2 48V Earth Leakage Monitor....£49.95 +VAT.... Add to Basket

CBCELM-679-2 110V Earth Leakage Monitor....£49.95 +VAT.... Add to Basket

CBCELM-679-2 240V Earth Leakage Monitor....£69.95 +VAT.... Add to Basket