---
---


YOUR SHOPPING CART
Items in Cart:
Value inc carriage (exc tax):
---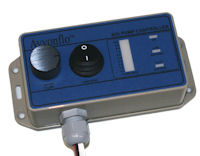 Avvonflo Pump Controller.
---
if you have a friend or colleague who would find this page interesting!
---
Call Us Mon-Fri (11.30AM - 8.30PM Excluding public bank holidays)

UK-07768 206649
---

Send us an Email!
---
AVVONFLO™ PUMP CONTROLLER
Our new 825 Avvonflo™ Pump Controller is designed to control the speed of diaphragm Water Pumps used in pole fed window cleaning equipment.
Based upon the 725 version we developed in 2003 for a leading UK pole reach window cleaning manufacturer and which is used thousands of times a day within the industry, our 825 is a more advanced version.
It includes the same control circuitry that made the 725 so efficient and reliable but includes many additional features too. These include:-
Reverse polarity protection via an on-board or in-line fuse.
Automotive blade type fusing, available from any car accessory store.
Digital Bar graph set speed display.
Rotary control for precise setting adjustment.
Robust industrial design.
Repairable down to component level, result: reduced ownership costs.
Automatic flat battery pump shut-down to preserve battery life.
On, low battery and flat battery led indicators.
Function switch disables unit allowing end user to preserve set speed.
The Avvonflo™ is housed in an ABS enclosure 120mmW, 40mmH and 65mmD and includes mounting flanges for panel mounting the controller. The unit has a rating of IP65 which means it is immune to dust and will withstand splashing from any direction.
For pricing please contact our distributor Daqua Limited on 01786 469606