---
---

YOUR SHOPPING CART
Items in Cart:
Value inc carriage (exc tax):
---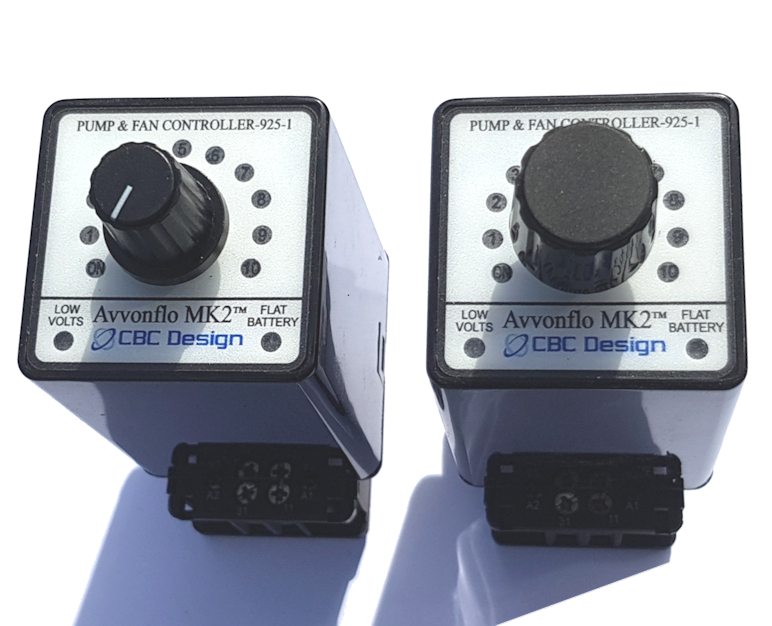 Avvonflo Mk2 Pump Controller. Rotary on-off(left) and push-on-off type.
---
if you have a friend or colleague who would find this page interesting!
---
Call Us Mon-Fri (11.30AM - 8.30PM Excluding public bank holidays)

UK-07768 206649
---

Send us an Email!
---
AVVONFLO™ PUMP CONTROLLER and FAN CONTROLLER
Our 925 Mk2 Avvonflo™ Pump Controller is designed to control the speed of diaphragm Water Pumps used in pole fed window cleaning equipment as well as 12V fans up to 80W.
Based upon the 825 version we developed in 2011 which is used thousands of times a day within the industry, the 925 Avvonflo Mk2 is the latest more compact plug-in version.
Carry a spare in your kit and you can swap out a damaged or faulty unit in seconds and carry on working, something that is impossible with the conventional rectangular hard wired types.
It includes the same control circuitry that made the original Avvonflo efficient and reliable and has the same features along with some new ones which include:-
Reverse polarity protected electronics.
Plugs into a standard 11 pin panel mounting/din rail mounting octal base for one off life-time wiring and easy swap out if damaged.
Revolving led scale set flow rate speed indicators - dot mode (standard) or optional bar mode via wire link or switch connected to base.
Rotary control for precise setting adjustment with 10 led flow indicator scale.
Robust industrial design.
Repairable down to component level for reduced ownership costs and extended life.
Automatic flat battery pump shut-down to protect cells.
On, low battery and flat battery led indicators.
Function switch built into the potentiometer (push-on-off type only) allowing end user to preserve set speed between jobs.
Optional rotary on-off model available.
Optional connections for pump presure switch sensing or thermostatic on-off control for fan applications.
The Avvonflo™ is housed in an ABS enclosure 46mmW, 46mmD, 78mmH.
925 Mk2 Rotary On Avvonflo Pump Controller....Discontinued from 22-12-20 due to manuafcturer withdrawing part.

925 Mk2 Push On Avvonflo Pump Controller....£47.50 +VAT.... Add to Basket