---
---

YOUR SHOPPING CART
Items in Cart:
Value inc carriage (exc tax):
---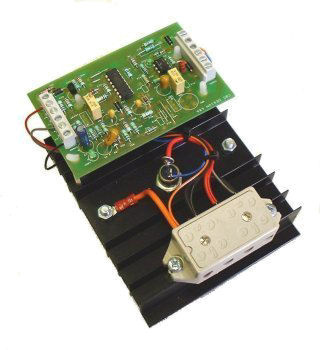 SCT Series Controller.
---
if you have a friend or colleague who would find this page interesting!
---
Call Us Mon-Fri (11.30AM - 8.30PM Excluding public bank holidays)

UK-07768 206649
---

Send us an Email!
---
Series Charge Controllers.
Our DC Series Charge Controller offers OEM manufacturers and individuals a cost effective way of building their own fully automatic industrial quality Battery Management charging system.
Supplied in an open format, the Series Charge Controller consist of a control circuit and Thyristor diode enabling the unit to be connected to a full wave bridge rectifier/transformer assembly and battery using just four connections.
The Series Charge Controller come in a variety of shapes, sizes and ratings according to the application but all include an electronic current limit and voltage control facility to maintain your battery in Tip-Top condition at all times.
The Series Charge Controller is available from 6-220VDC at current levels of a few milliamps to several hundred amps (subject to 6.5K watts max). We have controllers to suit most of the more common configurations.
If you need an automatic charging system for a fraction of the price of a fully configured charger, the Seriesw Charge Controller is perfect. At the heart of every system is a simple but highly reliable control circuit which delivers current at a limited maximum, gradually reducing it as the battery reaches the battery manufacturers "Set Point". (Fully Charged Voltage of Battery)
From companies seeking a solution to individuals with their own special requirements, we can help you meet your charging requirements.