---
---


YOUR SHOPPING CART
Items in Cart:
Value inc carriage (exc tax):
---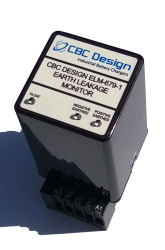 679 Earth Leakage Monitor. Click image to download a datasheet.
---
if you have a friend or colleague who would find this page interesting!
---
Call Us Mon-Fri (11.30AM - 8.30PM Excluding public bank holidays)

UK-07768 206649
---

Send us an Email!
---
Earth Leakage Alarm Relay.
The Earth Leakage Alarm Relay detects earth leakage between either DC pole and earth and provides a local and remote warning in the event of an earth fault.
The product is covered by a 2 year warranty against any defect in materials or workmanship.
Designed to measure both poles of the battery or dc power supply, the Earth Leakage Alarm Relay will respond to a negative or positive earth fault and the corresponding led on the front panel will illuminate. Following a short delay, the internal relay trips to provide a warning signal. The Earth Leakage Alarm Relay is capable of detecting earth faults on charger rectifiers and transformer secondaries too.
The Earth Leakage Alarm Relay is fitted with on-board through label healthy & failure leds and includes a double pole volt free relay rated at 3A @ 230VAC or 30VDC. Connections and installation requires an 11 pin octal base (Included!).
The Earth Leakage Alarm Relay is not suitable for use in vehicles using a positive or negative earthed chassis for obvious reasons but if you use batteries in marine applications, using the steelwork as a conductor is not desirable and this unit then comes into its own. It makes sure your installation floats with respect to earth.
Available in the same voltage range as our other monitors, the Earth Leakage Alarm Relay is suitable for use on 6, 12, 24, 30, 48, 110 and 220VDC systems. Special models configured for the mining industries can be manufactured to order. Download a data sheet or order your Earth Leakage Alarm Relay today!
Please record the operating voltage you require in the additional information section provided on the checkout page when ordering this product.
CBCELM-679-1 Earth Leakage Monitor....£56.00 +VAT.... Add to Basket