---
---

YOUR SHOPPING CART
Items in Cart:
Value inc carriage (exc tax):
---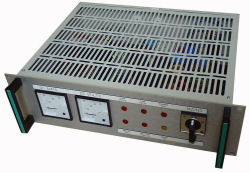 19" Rack Tray Charger.
---
if you have a friend or colleague who would find this page interesting!
---
Call Us Mon-Fri (11.30AM - 8.30PM Excluding public bank holidays)

UK-07768 206649
---

Send us an Email!
---
19" Rack Tray Mounted Charging Systems.
Our rack mounted chargers are available in a variety of configurations, current and voltage ratings. They incorporate switch mode technology with power outputs of up to 600W in 12V and 24V configurations. Other voltages may be available depending upon the power requirement
Systems can be configured to include a variety of alarms which measure parameters including battery voltage, charger output status, mains status and earth leakage. Volt free relay contacts and front panel led indications are also included if required.
Our rack charging systems are bespoke, the system pictured on the right for example was designed for a leading audio engineering company. All include a front panel mounted mains switch, mains fuse as well as a moving coil DC ammeter and voltmeter. Digital instrumentation is also available upon request.
Our rack trays are manufactured from mild steel with solid or ventilated bases depending upon the power rating. The front panels are anodised aluminium and a ventilated top over is included. We normally use 3U trays with depths of 350mm or 430mm.
With a design life in excess of twenty years, and subject to installation in a properly ventilated enclosure our systems are reliable and have a proven track record and designed for use in many industrial applications.
If you have a requirement for a high quality industrial grade 19" rack mounted charging system, contact us today by fax, phone or email.